Hello my fantabulous readers! In all my time having this blog, never have I once participated in a Read-a-thon. But that changes today!
A couple of days ago, I was taking a break from homework and scrolling through my subscription box when I saw one of my favorite booktubers post a new video and announce that she was co-hosting a read-a-thon so I naturally had to participate. And I have only read two books this month so I seriously need to read.
This read-a-thon is hosted by Joana Sousa: https://www.youtube.com/watch?v=JAzr0Jh0PeY
And hosted by Sam @ThoughtsonTomes https://www.youtube.com/watch?v=CEgYGF8e_cI
This Read-A-Thon goes from April 18 to April 24.
In this Read-A-Thon you can either binge read books by one author or you can follow the challenges. I am going to be following the challenges and the questions are here:
1- Read a book by one of your favorite authors
2- Read a new-to-you author
3- Give an author a second chance
4- Read a debut author (2015 or 2016)
5- Read a book written by more than one author
6- Read a book from an author who is from a different continent than you are
Now let us get into my TBR!
The first challenge is: Read a book by one of your favorite authors.
I had a hard time picking a book for this as originally I was going to re-read a Harry Potter book because J.K. Rowling is one of my favorite authors. Then I remembered I had The Lightning Thief on my April TBR because this is the book of the month for a book club I participate in.
So, for this challenge, I am going to be reading The Lightning Thief by Rick Riordan.
Percy Jackson is a good kid, but he can't seem to focus on his schoolwork or control his temper. And lately, being away at boarding school is only getting worse—Percy could have sworn his pre-algebra teacher turned into a monster and tried to kill him. When Percy's mom finds out, she knows it's time that he knew the truth about where he came from, and that he go to the one place he'll be safe. She sends Percy to Camp Half Blood, a summer camp for demigods (on Long Island), where he learns that the father he never knew is Poseidon, God of the Sea. Soon a mystery unfolds and together with his friends—one a satyr and the other the demigod daughter of Athena—Percy sets out on a quest across the United States to reach the gates of the Underworld (located in a recording studio in Hollywood) and prevent a catastrophic war between the gods
The second challenge is: Read a new-to-you author.
I have so many books that I could pick for this one but I decided to take another book from my April TBR.
For this challenge I am going to be reading Falling Kingdoms by Morgan Rhodes.
In the three kingdoms of Mytica, magic has long been forgotten. And while hard-won peace has reigned for centuries, a deadly unrest now simmers below the surface.
As the rulers of each kingdom grapple for power, the lives of their subjects are brutally transformed... and four key players, royals and rebels alike, find their fates forever intertwined. Cleo, Jonas, Lucia, and Magnus are caught in a dizzying world of treacherous betrayals, shocking murders, secret alliances, and even unforeseen love.
The only outcome that's certain is that kingdoms will fall. Who will emerge triumphant when all they know has collapsed?

It's the eve of war.... Choose your side.
Princess:
Raised in pampered luxury, Cleo must now embark on a rough and treacherous journey into enemy territory in search of magic long thought extinct.
Rebel:
Jonas, enraged at injustice, lashes out against the forces of oppression that have kept his country cruelly impoverished. To his shock, he finds himself the leader of a people's revolution centuries in the making.
Sorceress:
Lucia, adopted at birth into the royal family, discovers the truth about her past—and the supernatural legacy she is destined to wield.
Heir:
Bred for aggression and trained to conquer, firstborn son Magnus begins to realize that the heart can be more lethal than the sword....
The third challenge is: Give an author a second chance.
For this challenge I am going to be reading Between the Spark and the Burn by April Genevieve Tucholke. I didn't really enjoy the first book because it scared me a lot but I have decided to try the second book as many good things have been said about it.
Freddie once told me that the Devil created all the fear in the world.
But then, the Devil once told me that it's easier to forgive someone for scaring you than for making you cry.
The problem with River West Redding was that he'd done both to me.

The crooked-smiling liar River West Redding, who drove into Violet's life one summer day and shook her world to pieces, is gone. Violet and Neely, River's other brother, are left to worry—until they catch a two a.m. radio program about strange events in a distant mountain town. They take off in search of River but are always a step behind, finding instead frenzied towns, witch hunts, and a wind-whipped island with the thrum of something strange and dangerous just under the surface. It isn't long before Violet begins to wonder if Neely, the one Redding brother she thought trustworthy, has been hiding a secret of his own . . .
The fourth challenge is: Read a book by a debut author. They can either be from 2015 or 2016.
For this challenge I am going to be reading The Witch Hunter by Virginia Boecker. This was written in 2015.
Elizabeth Grey is one of the king's best witch hunters, devoted to rooting out witchcraft and doling out justice. But when she's accused of being a witch herself, Elizabeth is arrested and sentenced to burn at the stake.
Salvation comes from a man she thought was her enemy. Nicholas Perevil, the most powerful and dangerous wizard in the kingdom, offers her a deal: he will save her from execution if she can break the deadly curse that's been laid upon him.
But Nicholas and his followers know nothing of Elizabeth's witch hunting past--if they find out, the stake will be the least of her worries. And as she's thrust into the magical world of witches, ghosts, pirates, and one all-too-handsome healer, Elizabeth is forced to redefine her ideas of right and wrong, of friends and enemies, and of love and hate.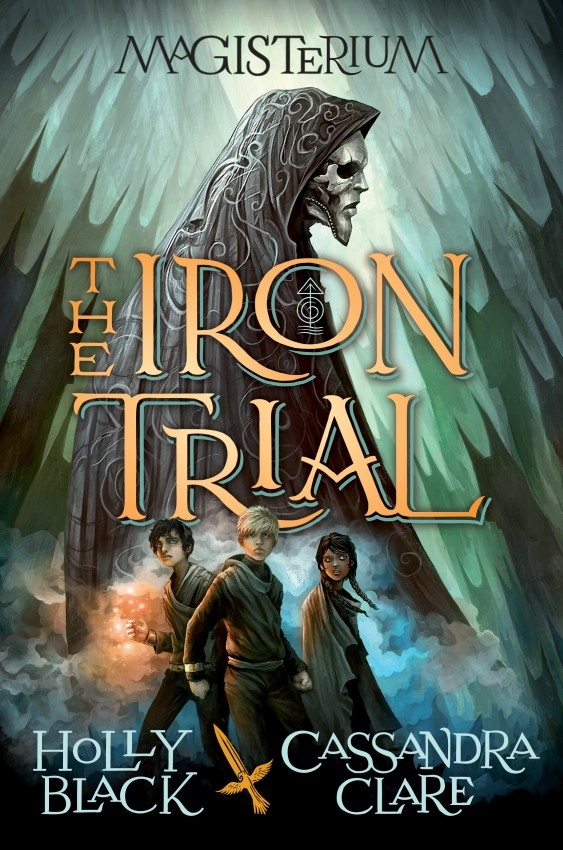 The fifth challenge is: Read a book written by more than one author.
This challenge was really hard. I don't really have any books written by more than one author but I did find a Middle Grade book that people have liked.
For this challenge I am going to be reading The Iron Trial by Cassandra Clare and Holly Black.
Most kids would do anything to pass the Iron Trial.

Not Callum Hunt. He wants to fail.

All his life, Call has been warned by his father to stay away from magic. If he succeeds at the Iron Trial and is admitted into the Magisterium, he is sure it can only mean bad things for him.

So he tries his best to do his worst - and fails at failing.

Now the Magisterium awaits him. It's a place that's both sensational and sinister, with dark ties to his past and a twisty path to his future.

The Iron Trial is just the beginning, for the biggest test is still to come . . .
The sixth challenge is: Read a book by an author who is from a different continent than you.
This was really hard too.
For this challenge I am going to reading The Perilous Sea by Sherry Thomas.
After spending the summer away from each other, Titus and Iolanthe (still disguised as Archer Fairfax) are eager to return to Eton College to resume their training to fight the Bane. Although no longer bound to Titus by a blood oath, Iolanthe is more committed than ever to fulfilling her destiny—especially with the agents of Atlantis quickly closing in.
Soon after arriving at school, though, Titus makes a shocking discovery, one that makes him question everything he previously believed about their mission. Faced with this devastating realization, Iolanthe is forced to come to terms with her new role, while Titus must choose between following his mother's prophecies—and forging a divergent path to an unknowable future.
And that is it for this Read-A-Thon TBR. I will try to do daily check-ins but homework might get in the way so I'm sorry about that. Anyways, I can not wait to start this!