Today I am going to be doing my July To Be Read! I am going to California this month so I won't be able to blog much and I am not sure how much I will be reading. However, this is the list that I came up with. I requested a lot of these from the library there as I have a library card. I will probably read a couple more than these as I could be very bored there but we'll see. Anyways, let's get into my TBR!
The first book I have on this list is Opal by Jennifer L. Armentrout. I started this book today and plan to finish it by tomorrow which may seem like an impossible feat but I will somehow complete it. I adore the Lux series and I can not wait to dive into this one.
The second book I have on this list is House of the Four Winds by Mercedes Lackey. I bought this from Barnes and Noble this month and I am so excited to read it. It sounds like an exciting read and it is an Adult Fantasy/Adventure which is about pirates which I love.
The tiny nation of Swansgaard is a lovely place with abundant natural resources, including the royal family, which has been blessed with twelve daughters and a son. As this boisterous baker's dozen approaches adulthood, the king and queen lovingly tell their daughters, "You must make your own fortune, for we cannot enrich you without impoverishing our people or leaving our lands defenceless, and that we will not do."
Happily, the princesses of Swansgaard are eager to meet this challenge, for they yearn for adventures both near and far from home.
Clarice, an expert swordswoman, is the first to depart. Disguising herself as Clarence, she signs on for a voyage to the New World. The captain is vile and blackhearted, and the crew soon mutinies. Clarice becomes first mate - and finds her heart captured by the new captain, Dominick, who is, to his own surprise, increasingly attracted to Clarence.
Now outlaws, Dominick and his crew turn to piracy - though their hearts are not entirely in it. They soon run afoul of the Pirate Council, who orders them to retrieve the Heart of Light. All who have searched for this great treasure have vanished, with neither ships nor crews ever seen again and no sign of their fates ever discovered.
But none before have carried with them the sorceress Shamal, who stakes a claim of her own on Dominick's heart.
The third book I have on this list is Love, Lies and Spies by Cindy Anstey. I have had my eyes on this book since I saw it on the 2016 New Releases List. I requested this from a library in California and I am so excited to read it. A lot of people have also enjoyed it so I have high hopes.
Juliana Telford is not your average nineteenth-century young lady. She's much more interested in researching ladybugs than marriage, fashionable dresses, or dances. So when her father sends her to London for a season, she's determined not to form any attachments. Instead, she plans to secretly publish their research.
Spencer Northam is not the average young gentleman of leisure he appears. He is actually a spy for the War Office, and is more focused on acing his first mission than meeting eligible ladies. Fortunately, Juliana feels the same, and they agree to pretend to fall for each other. Spencer can finally focus, until he is tasked with observing Juliana's traveling companions . . . and Juliana herself.
The fourth book I have on this list is Far from the Madding Crowd by Thomas Hardy. I saw the movie a couple months ago and since I read a classic every summer, I picked this one for this year's classic and I am excited to read it.
Independent and spirited Bathsheba Everdene has come to Weatherbury to take up her position as a farmer on the largest estate in the area. Her bold presence draws three very different suitors: the gentleman-farmer Boldwood, soldier-seducer Sergeant Troy and the devoted shepherd Gabriel Oak. Each, in contrasting ways, unsettles her decisions and complicates her life, and tragedy ensues, threatening the stability of the whole community.
The fifth book I have on this list is The Shadow Queen by C.J. Redwine. I have had my eye on this book for a while and it has never appeared in the library and I don't want to buy it. But I am really excited to read this as it sounds like an interesting Snow White retelling. And Kol is a very interesting name plus he sounds really interesting himself. :)
Lorelai Diederich, crown princess and fugitive at large, has one mission: kill the wicked queen who took both the Ravenspire throne and the life of her father. To do that, Lorelai needs to use the one weapon she and Queen Irina have in common—magic. She'll have to be stronger, faster, and more powerful than Irina, the most dangerous sorceress Ravenspire has ever seen.
In the neighboring kingdom of Eldr, when Prince Kol's father and older brother are killed by an invading army of magic-wielding ogres, the second-born prince is suddenly given the responsibility of saving his kingdom. To do that, Kol needs magic—and the only way to get it is to make a deal with the queen of Ravenspire, promise to become her personal huntsman…and bring her Lorelai's heart.
But Lorelai is nothing like Kol expected—beautiful, fierce, and unstoppable—and despite dark magic, Lorelai is drawn in by the passionate and troubled king. Fighting to stay one step ahead of the dragon huntsman—who she likes far more than she should—Lorelai does everything in her power to ruin the wicked queen. But Irina isn't going down without a fight, and her final move may cost the princess the one thing she still has left to lose.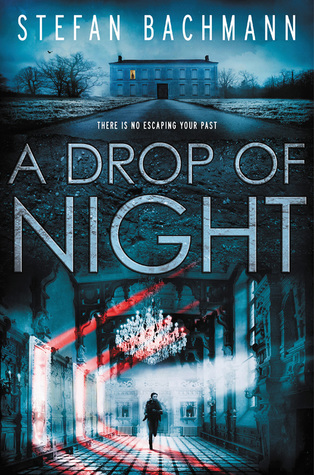 The sixth book I have on this list is A Drop of Night by Stefan Bachmann. This book says it is for fans of The Maze Runner and since that is one of my favorite series, I am so down to try this.
Seventeen-year-old Anouk has finally caught the break she's been looking for—she's been selected out of hundreds of other candidates to fly to France and help with the excavation of a vast, underground palace buried a hundred feet below the suburbs of Paris. Built in the 1780's to hide an aristocratic family and a mad duke during the French Revolution, the palace has lain hidden and forgotten ever since. Anouk, along with several other gifted teenagers, will be the first to set foot in it in over two centuries.
Or so she thought.
But nothing is as it seems, and the teens soon find themselves embroiled in a game far more sinister, and dangerous, than they could possibly have imagined. An evil spanning centuries is waiting for them in the depths. . .
A genre-bending thriller from Stefan Bachmann for fans of
The Maze Runner
and Joss Whedon's
The Cabin in the Woods
.
You cannot escape the palace.
You cannot guess its secrets.
The seventh book I have is Ash and Bramble by Sarah Prineas. This sounds like a darker version of Cinderella and I love fairytale retellings and this one sounds so intriguing. I can't wait. I might start with this one pretty quickly.
A prince.
A ball.
A glass slipper left behind at the stroke of midnight.
The tale is told and retold, twisted and tweaked, snipped and stretched, as it leads to happily ever after.
But it is not the true Story.
A dark fortress.
A past forgotten.
A life of servitude.
No one has ever broken free of the Godmother's terrible stone prison until a girl named Pin attempts a breathless, daring escape. But she discovers that what seems to be freedom is a prison of another kind, one that entangles her in a story that leads to a prince, a kiss, and a clock striking midnight. To unravel herself from this new life, Pin must choose between a prince and another—the one who helped her before and who would give his life for her. Torn, the only thing for her to do is trade in the glass slipper for a sword and find her own destiny.
The eighth book I have on this list is Lock and Mori by Heather W. Petty. This is a sort of Sherlock retelling and I am so down for that. A lot of people didn't like this one which makes me a little bit worried.
In modern-day London, two brilliant high school students—one Sherlock Holmes and a Miss James "Mori" Moriarty—meet. A murder will bring them together. The truth very well might drive them apart.
Before they were mortal enemies, they were much more…
FACT: Someone has been murdered in London's Regent's Park. The police have no leads.
FACT: Miss James "Mori" Moriarty and Sherlock "Lock" Holmes should be hitting the books on a school night. Instead, they are out crashing a crime scene.
FACT: Lock has challenged Mori to solve the case before he does. Challenge accepted.
FACT: Despite agreeing to Lock's one rule—they must share every clue with each other—Mori is keeping secrets.
OBSERVATION: Sometimes you can't trust the people closest to you with matters of the heart. And after this case, Mori may never trust Lock again
The ninth book I have is The Beauty of Darkness by Mary E. Pearson. I was lucky enough to receive an ARC of this book from NetGalley and I am so excited and it is amazing so far. Can't wait to finish it.
Lia and Rafe have escaped Venda and the path before them is winding and dangerous - what will happen now? This third and final book in The Remnant Chronicles is not to be missed.
Bestselling author Mary E. Pearson's combination of intrigue, suspense, romance and action make this a riveting page turner for teens.
The ninth book I have is The King Slayer by Virginia Boecker. This is the sequel to The Witch Hunter which I really enjoyed so I am so ready for this.
"I think, in time, you'll either be my greatest mistake or my greatest victory."
Former witch hunter Elizabeth Grey is hiding within the magically protected village of Harrow, evading the price put on her head by Lord Blackwell, the usurper king of Anglia. Their last encounter left Blackwell ruined, but his thirst for power grows stronger every day. He's readying for a war against those who would resist his rule—namely Elizabeth and the witches and wizards she now calls her allies.
Having lost her stigma, a magical source of protection and healing, Elizabeth's strength is tested both physically and emotionally. War always means sacrifice, and as the lines between good and evil blur once more, Elizabeth must decide just how far she'll go to save those she loves.