Hello everyone. It is the end of the month which means another book haul is here. And I kind of went crazy this month so this is going to just be part one of the book haul as I don't want this post to be too long.
Without further ado, let's get on with part one of my crazy book haul.
The first three books I bought from Thrift Books because I like getting cheaper books!
I bought Poison Study by Marie V. Snyder. This book has been recommended to me and most people have really enjoyed it. I have so many books on my TBR shelf so this might take a while to get to.
Choose: A quick death…Or slow poison...
About to be executed for murder, Yelena is offered an extraordinary reprieve. She'll eat the best meals, have rooms in the palace—and risk assassination by anyone trying to kill the Commander of Ixia.
And so Yelena chooses to become a food taster. But the chief of security, leaving nothing to chance, deliberately feeds her Butterfly's Dust—and only by appearing for her daily antidote will she delay an agonizing death from the poison.
As Yelena tries to escape her new dilemma, disasters keep mounting. Rebels plot to seize Ixia and Yelena develops magical powers she can't control. Her life is threatened again and choices must be made. But this time the outcomes aren't so clear...
I also bought Winterspell by Claire Legrand. This is a Nutcracker retelling which sounds so good.
The clock chimes midnight, a curse breaks, and a girl meets a prince…but what follows is not all sweetness and sugarplums.
New York City, 1899. Clara Stole, the mayor's ever-proper daughter, leads a double life. Since her mother's murder, she has secretly trained in self-defense with the mysterious Drosselmeyer.
Then, on Christmas Eve, disaster strikes.
Her home is destroyed, her father abducted—by beings distinctly not human. To find him, Clara journeys to the war-ravaged land of Cane. Her only companion is the dethroned prince Nicholas, bound by a wicked curse. If they're to survive, Clara has no choice but to trust him, but his haunted eyes burn with secrets—and a need she can't define. With the dangerous, seductive faery queen Anise hunting them, Clara soon realizes she won't leave Cane unscathed—if she leaves at all.
The last book I bought from Thrift Books was The Elfstones of Shannara by Terry Brooks. This was a book I have only wanted to buy for a couple months. Ever since the TV show; The Shannara Chronicles came on, I've wanted to watch it but I usually read the book before I watch the movie so I am going to be doing that next month!
Ancient Evil threatens the Elves: The ancient tree created by long-lost Elven magic, is dying. When Wil Ohmsford is summoned to guard the Amberle on a perilous quest to gather a new seed for a new tree, he is faced with the Reaper, the most fearsome of all Demons. And Wil is without power to control them...
Then I have seven books I got from a book sale at a high school near mine.
The first book I got is The Voyage of the Jerie Shannara Antrax by Terry Brooks. This is another book by Terry Brooks and since it was $1.00, I just decided to buy it. I'm not sure when I'll read it though.
The second book I got was Evermore by Alyson Noel. I was intrigued by the cover and it does sound like a book that I would enjoy.
After a horrible accident claims the lives of her family, sixteen-year-old Ever Bloom can see people's auras, hear their thoughts, and know someone's entire life story by touching them. Going out of her way to avoid human contact to suppress her abilities, she has been branded a freak at her new high school — but everything changes when she meets Damen Auguste.
Damen is gorgeous, exotic and wealthy. He's the only one who can silence the noise and random energy in her head - wielding a magic so intense, it's as though he can peer straight into her soul. As Ever is drawn deeper into his enticing world of secrets and mystery, she's left with more questions than answers. And she has no idea just who he really is - or what he is. The only thing she knows to be true is that she's falling deeply and helplessly in love with him.
The third book I got was Outlander by Diana Gabaldon. If you have not at least heard of this book, I will seriously question your existence. Most people have really enjoyed this book so I will be picking this one up in the future.
The year is 1945. Claire Randall, a former combat nurse, is just back from the war and reunited with her husband on a second honeymoon when she walks through a standing stone in one of the ancient circles that dot the British Isles. Suddenly she is a Sassenach—an "outlander"—in a Scotland torn by war and raiding border clans in the year of Our Lord...1743.
Hurled back in time by forces she cannot understand, Claire is catapulted into the intrigues of lairds and spies that may threaten her life, and shatter her heart. For here James Fraser, a gallant young Scots warrior, shows her a love so absolute that Claire becomes a woman torn between fidelity and desire—and between two vastly different men in two irreconcilable lives.
The fourth book I got was The Vampire Diaries The Awakening and the Struggle by L.J. Smith. Honestly, I don't know why I bought this. People have said that the books were really bad and that the show is much better but I wanted to see what it was about.
The fifth book I bought was Defy by Sara B. Larson. This was the only book I bought that I have actually read. I enjoyed this book much to my shock as many others have not enjoyed it. I agree that it didn't live completely up to my expectations but I still really enjoyed it and wanted to own the series.
Alexa Hollen is a fighter. Forced to disguise herself as a boy and serve in the king's army, Alex uses her quick wit and fierce sword-fighting skills to earn a spot on the elite prince's guard. But when a powerful sorcerer sneaks into the palace in the dead of night, even Alex, who is virtually unbeatable, can't prevent him from abducting her, her fellow guard and friend Rylan, and Prince Damian, taking them through the treacherous wilds of the jungle and deep into enemy territory.
The longer Alex is held captive with both Rylan and the prince, the more she realizes that she is not the only one who has been keeping dangerous secrets. And suddenly, after her own secret is revealed, Alex finds herself confronted with two men vying for her heart: the safe and steady Rylan, who has always cared for her, and the dark, intriguing Damian. With hidden foes lurking around every corner, is Alex strong enough to save herself and the kingdom she's sworn to protect?
The sixth book I bought was The Isle of the Lost by Melissa De La Cruz. There was a Disney movie that was made based on this book and I really wanted to watch it so I bought the book. Yay!
Twenty years ago, all the evil villains were banished from the kingdom of Auradon and made to live in virtual imprisonment on the Isle of the Lost. The island is surrounded by a magical force field that keeps the villains and their descendants safely locked up and away from the mainland. Life on the island is dark and dreary. It is a dirty, decrepit place that's been left to rot and forgotten by the world.
But hidden in the mysterious Forbidden Fortress is a dragon's eye: the key to true darkness and the villains' only hope of escape. Only the cleverest, evilest, nastiest little villain can find it...who will it be?
Maleficent, Mistress of the Dark: As the self-proclaimed ruler of the isle, Maleficent has no tolerance for anything less than pure evil. She has little time for her subjects, who have still not mastered life without magic. Her only concern is getting off the Isle of the Lost.
Mal: At sixteen, Maleficent's daughter is the most talented student at Dragon Hall, best known for her evil schemes. And when she hears about the dragon's eye, Mal thinks this could be her chance to prove herself as the cruelest of them all.
Evie: Having been castle-schooled for years, Evil Queen's daughter, Evie, doesn't know the ins and outs of Dragon Hall. But she's a quick study, especially after she falls for one too many of Mal's little tricks.
Jay: As the son of Jafar, Jay is a boy of many talents: stealing and lying to name a few. Jay and Mal have been frenemies forever and he's not about to miss out on the hunt for the dragon's eye.
Carlos: Cruella de Vil's son may not be bravest, but he's certainly clever. Carlos's inventions may be the missing piece in locating the dragon's eye and ending the banishment for good.
Mal soon learns from her mother that the dragon's eye is cursed and whoever retrieves it will be knocked into a deep sleep for a thousand years. But Mal has a plan to capture it. She'll just need a little help from her "friends." In their quest for the dragon's eye, these kids begin to realize that just because you come from an evil family tree, being good ain't so bad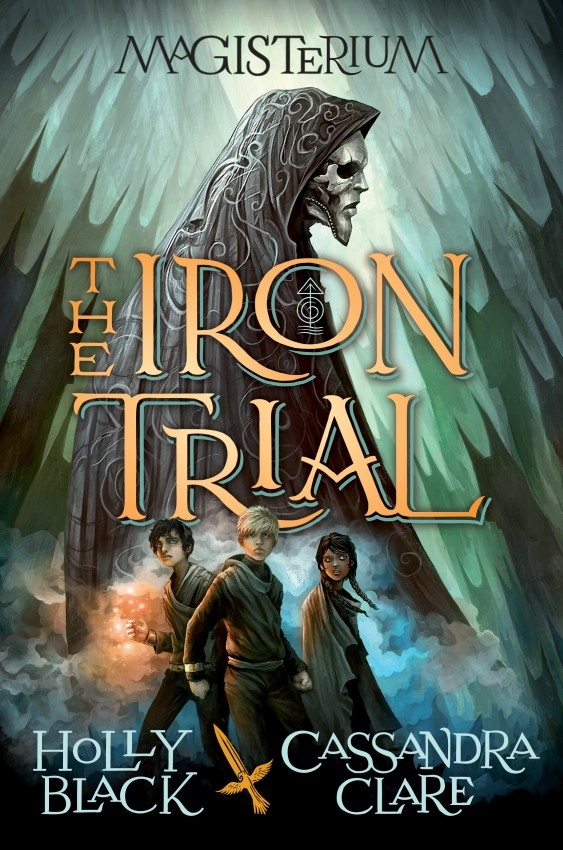 The last book in this part of the book haul is The Iron Trial by Holly Black and Cassandra Clare. I've heard many good things about this book and naturally I wanted to pick it up. And it's a Middle Grade book which I love!
Most kids would do anything to pass the Iron Trial.
Not Callum Hunt. He wants to fail.
All his life, Call has been warned by his father to stay away from magic. If he succeeds at the Iron Trial and is admitted into the Magisterium, he is sure it can only mean bad things for him.
So he tries his best to do his worst - and fails at failing.
Now the Magisterium awaits him. It's a place that's both sensational and sinister, with dark ties to his past and a twisty path to his future.
The Iron Trial is just the beginning, for the biggest test is still to come . . .
The next part will be coming soon so stay tuned and happy reading!