This is a spoiler free review!
Genre: Adult/Romance/Contemporary/Realistic Fiction
Publisher: Pamela Dorman Books/Viking
Release Date: December 31, 2012
Places to Get this Book: Amazon Barnes and Noble Book Depository
Recommended Age: 15 or 16 and up
Lou Clark knows lots of things. She knows how many footsteps there are between the bus stop and home. She knows she likes working in The Buttered Bun tea shop and she knows she might not love her boyfriend Patrick.
What Lou doesn't know is she's about to lose her job or that knowing what's coming is what keeps her sane.
Will Traynor knows his motorcycle accident took away his desire to live. He knows everything feels very small and rather joyless now and he knows exactly how he's going to put a stop to that.
What Will doesn't know is that Lou is about to burst into his world in a riot of colour. And neither of them knows they're going to change the other for all time.
I read this book pretty quickly because I wanted to see the movie adaptation of it. I haven't seen it yet but the book was so good. I laughed, I cried and I wanted more of Will and Louisa. The book was amazing and a lot better than I thought it would be. The romance didn't overwhelm the book and the characters were really well-developed. I really enjoyed it.
I didn't know I could feel so attached and connected to a book and characters as I did with this book. I was so attached that I could barely finish the book because I knew what was going to happen. I knew my heart was going to be ripped in two and I wouldn't be able to piece it together again. This book has changed me and words can not describe what I feel at this moment.
The cover I have is the UK cover. I like this cover a lot more than the regular red cover. This cover is simple but is very pretty and really makes me feel like reading the book.
Then there are the characters.
Louisa is such a normal character. She has flaws and talents just like everyone else and she is such a lovable character. I felt that even though I'm a teenager and she was a grown-up, I could relate to her and some of her problems or fears were things every person worried about or thought about. She was always treated as if she was stupid and wouldn't ever be able to change anyone's lives. But she had so much potential and truly was a wonderfully unique person. She's an amazingly lovable character and i love her so so much.
Will was in an accident that left him stuck in a wheelchair, unable to use his legs or hands. He used to be a daredevil, and adventurous but that was all gone after the accident. Now he can't even eat without help. Then he meets Lou who changes his life. Will was such a sarcastic character and I hated him at the beginning but then I grew so emotionally attached to him that I knew I would never be able to let him go.
I really liked Nathan who was Will's caretaker. He was an interesting character and joined Lou and Will on their 'adventures'.
I adored the plot. It was not your ordinary contemporary love story. It was something that had a lot more depth and dealt with issues that were hard to process and really made you think. I feel like the story was made so people would think about their own lives and try to live them to the fullest.
The romance is by no means insta-lovey. It is such a complex and slow building love that takes up the entire story and really makes you happy. First there was hatred. Lou tried her hardest to be nice to him and Will was nothing but rude. Then there was heartwarming friendship. And finally there was delicate, bittersweet, heartbreaking romance. Lou gave Will a sort of happiness and joy, and he spread her wings and taught her to fly. He gave her that push that made her step out of her shell and do things she wouldn't normally do. Their romance was sweet and beautiful and just broke my heart.
Jojo Moyes writing is so hauntingly beautiful and almost poetic. She gave you hope and also scared you to death to the point where you just wanted to get rid of the book so it wouldn't cause you endless pain. You hold your breath and pray that what is coming really isn't. There are gut-wrenching moments and then sweet, tender moments. She created such realistic characters, family relationships that weren't perfect but you could easily sympathize with all of them. She made you understand both sides. And most of all she made you appreciate the things you take for granted.
The end of this book gutted me. I was obviously expecting it from the warnings in the book and from my friends but it did not lessen the impact. Tears were blurring my eyesight so much that I had to take a minute to calm down. I guess I understood why everything happened the way that it did but it was still horrible and I didn't agree with it at all. But I greatly admire Jojo Moyes for being able and having the guts to write such a powerful, realistic and deeply touching and emotional ending.
Me Before You is a perfect rainy day read. This book is horribly sad but at the same time so full of life. It is uplifting and soul-wrenching. The message is the most important aspect of the novel: life is great when you get to live it on your own terms. At the end of the day it's okay to put your own happiness first. It's okay to put yourself before others.
Yes it hurts. It hurts a lot. But I must be strong and live my life fully. And I'm going to take this quote from Katerina [
https://www.goodreads.com/user/show/5014021-katerina
]
One day,I'm going to visit Paris,drink coffee in Le Marais and imagine that the girl with the bee tights is walking next to the love of her life,who makes fun of her clothes but holds her in a strong grip and never lets her go.
Please go read this book. And by the way, the movie cast was amazing. I couldn't have picked a better actor or actress for Will and Lou.
Me at the End of the Book: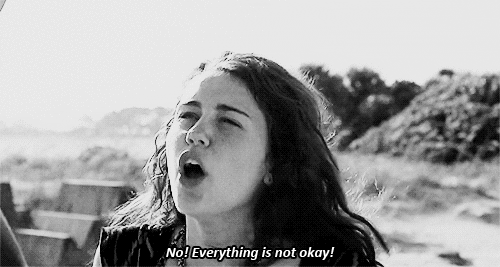 "You only get one life. It's actually your duty to live it as fully as possible."
"Push yourself. Don't Settle. Just live well. Just LIVE."
"You can only actually help someone who wants to be helped."
"I thought, briefly, that I would never feel as intensely connected to the world, to another human being, as I did at that moment."
"You are scored on my heart,Clark. You were from the first day you walked in,with your ridiculous clothes and your complete inability to ever hide a single thing you felt."
"I just...want to be a man who has been to a concert with a girl in a red dress. Just for a few minutes more..."
My Rating: 5 out of 5 Crowns