Today I am going to be sharing with you my most anticipated books of Spring 2016 which is from April-Early June! I decided to split my most anticipated into four parts because of how many books there are. Without further ado let's get on with this blogpost!
[By the way these books will be separated into different sections]
SEQUELS
The first book that I am excited for is A Court of Mist and Fury by Sarah J. Maas. This book is set to release on May 3, 2016 by Bloomsbury USA Childrens. This is the sequel to A Court of Thorns and Roses which is one of my favorite books EVER!
Feyre survived Amarantha's clutches to return to the Spring Court--but at a steep cost. Though she now has the powers of the High Fae, her heart remains human, and it can't forget the terrible deeds she performed to save Tamlin's people.
Nor has Feyre forgotten her bargain with Rhysand, High Lord of the feared Night Court. As Feyre navigates its dark web of politics, passion, and dazzling power, a greater evil looms--and she might be key to stopping it. But only if she can harness her harrowing gifts, heal her fractured soul, and decide how she wishes to shape her future--and the future of a world cleaved in two.
The second book I am excited for is The Crown by Kiera Cass. This book is set to release on May 3, 2016 by HarperTeen. I didn't love The Heir but I still need to know what happens next so I can't wait for this book.
Twenty years have passed since the events of The One, and America and Maxon's daughter is the first princess to hold a Selection of her own. Princess Eadlyn didn't think she would find a real partner among the Selection's thirty-five suitors, let alone true love. But sometimes the heart has a way of surprising you... and now Eadlyn must make a choice that feels more difficult—and more important—than she ever expected.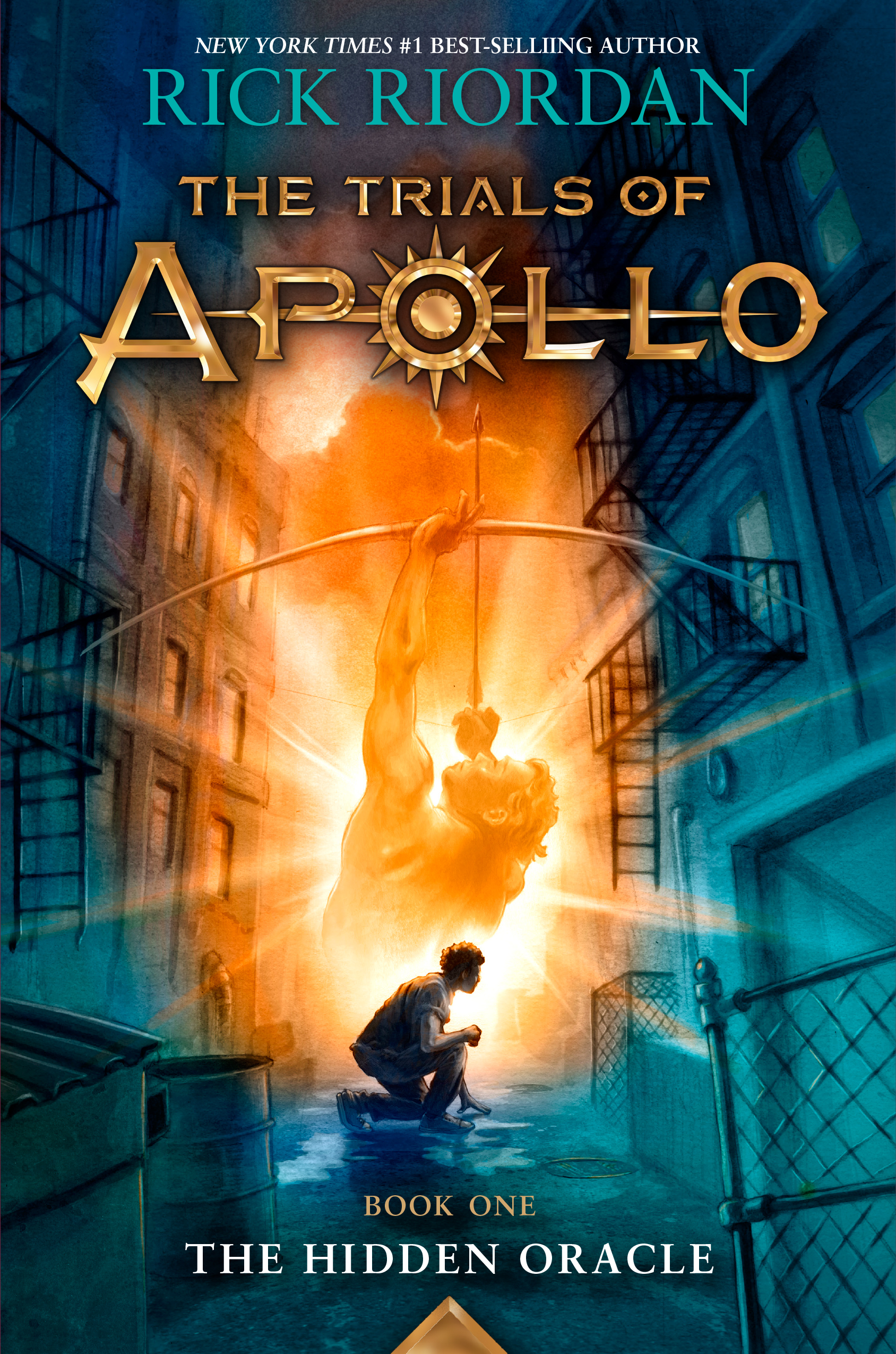 The third book I am excited for is The Hidden Oracle by Rick Riordan. This is set to release on May 3, 2016 from Disney-Hyperion. I know that this is part of its own series but it feels like this is part of the Percy Jackson series because he said the characters will be in it. I can not wait!
How do you punish an immortal?
By making him human.
After angering his father Zeus, the god Apollo is cast down from Olympus. Weak and disorientated, he lands in New York City as a regular teenage boy. Now, without his godly powers, the four-thousand-year-old deity must learn to survive in the modern world until he can somehow find a way to regain Zeus's favour.
But Apollo has many enemies - gods, monsters and mortals who would love to see the former Olympian permanently destroyed. Apollo needs help, and he can think of only one place to go . . . an enclave of modern demigods known as Camp Half-Blood.
The fourth book I am excited for is The Vanishing Throne by Elizabeth May. This book is set to release on June 7, 2016 from Chronicle Books. I loved the first book and I do have it on my shelf so I can't wait for the next one.
The second book in the Falconer trilogy is packed with surprises and suspense.
Aileana Kameron, the Falconer, disappeared through the portal that she was trying to close forever. Now she wakes up in the fae world, trapped and tortured by the evil Lonnrach. With the help of an unexpected ally, Aileana re-enters the human world, only to find everything irrevocably changed. Edinburgh has been destroyed, and the few human survivors are living in an uneasy truce with the fae, while both worlds are in danger of disappearing altogether. Aileana holds the key to saving both worlds, but in order to do so she must awaken her latent Falconer powers. And the price of doing that might be her life.
The fifth book I am excited for is Return to the Isle of the Lost by Melissa de la Cruz. This book is set to release on May 24, 2016 from Disney-Hyperion. I have not read the first book but I do own it so I am still excited.
There's no place like home. Especially if home is the infamous Isle of the Lost. Mal, Evie, Carlos, and Jay haven't exactly turned their villainous noses up at the comforts of Auradon after spending their childhoods banished on the Isle. After all, meeting princes and starring on the Tourney team aren't nearly as terrible as Mal and her friends once thought they would be.
But when they receive a mysterious invitation to return to the Isle, Mal, Evie, Carlos, and Jay can't help feeling comfortable in their old hood—and their old ways. Not everything is how they left it, though, and when they discover a dark mystery at the Ise's core, they'll have to combine all of their talents in order to save the kingdom.
The sixth book that I am excited for is Once Upon a Dream by Liz Braswell. This book is set to release on April 5, 2016 by Disney Press. I also did not read the first book but they don't go together so it will be fine to read this.
What if the sleeping beauty never woke up? Once Upon a Dream marks the second book in a new YA line that reimagines classic Disney stories in surprising new ways.
It should be simple--a dragon defeated, a slumbering maiden, a prince poised to wake her. But when said prince falls asleep as soon as his lips meet the princess's, it is clear that this fairy tale is far from over.
With a desperate fairy's last curse infiltrating her mind, Princess Aurora will have to navigate a dangerous and magical landscape deep in the depths of her dreams. Soon she stumbles upon Phillip, a charming prince eager to join her quest. But with Maleficent's agents following her every move, Aurora struggles to discover who her true allies are, and moreover, who she truly is. Time is running out. Will the sleeping beauty be able to wake herself up?
FANTASY
The first book in this section that I am excited for is Ruined by Amy Tintera. This is set to release on May 3, 2016 from HarperTeen. This book sounds so good and why are so many books coming out on the same day. I'm going to be binge-buying for sure.
Emelina Flores has nothing. Her home in Ruina has been ravaged by war. She lacks the powers of her fellow Ruined. Worst of all, she witnessed her parents' brutal murders and watched helplessly as her sister, Olivia, was kidnapped.
But because Em has nothing, she has nothing to lose. Driven by a blind desire for revenge, Em sets off on a dangerous journey to the enemy kingdom of Lera. Somewhere within Lera's borders, Em hopes to find Olivia. But in order to find her, Em must infiltrate the royal family.
In a brilliant, elaborate plan of deception and murder, Em marries Prince Casimir, next in line to take Lera's throne. If anyone in Lera discovers Em is not Casimir's true betrothed, Em will be executed on the spot. But it's the only way to salvage Em's kingdom and what is left of her family.
Em is determined to succeed, but the closer she gets to the prince, the more she questions her mission. Em's rage-filled heart begins to soften. But with her life—and her family—on the line, love could be Em's deadliest mistake.
The second book in this section is The Star Touched Queen by Roshani Chokshi. This is set to release on April 26, 2016 from St. Martin's Griffin. This book contains fantasy elements and mythology so I can't wait. And I think it is similar to Hades and Persephone so I'm down.
Fate and fortune. Power and passion. What does it take to be the queen of a kingdom when you're only seventeen?
Maya is cursed. With a horoscope that promises a marriage of Death and Destruction, she has earned only the scorn and fear of her father's kingdom. Content to follow more scholarly pursuits, her whole world is torn apart when her father, the Raja, arranges a wedding of political convenience to quell outside rebellions. Soon Maya becomes the queen of Akaran and wife of Amar. Neither roles are what she expected: As Akaran's queen, she finds her voice and power. As Amar's wife, she finds something else entirely: Compassion. Protection. Desire...
But Akaran has its own secrets -- thousands of locked doors, gardens of glass, and a tree that bears memories instead of fruit. Soon, Maya suspects her life is in danger. Yet who, besides her husband, can she trust? With the fate of the human and Otherworldly realms hanging in the balance, Maya must unravel an ancient mystery that spans reincarnated lives to save those she loves the most. . .including herself.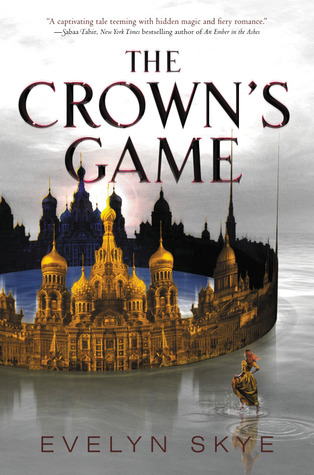 The third book in this section is The Crown's Game by Evelyn Skye. This is set to release on May 17, 2016 from Balzer + Bray. This book sounds so amazing and it is a series and I am so excited!
Vika Andreyeva can summon the snow and turn ash into gold. Nikolai Karimov can see through walls and conjure bridges out of thin air. They are enchanters—the only two in Russia—and with the Ottoman Empire and the Kazakhs threatening, the Tsar needs a powerful enchanter by his side.
And so he initiates the Crown's Game, an ancient duel of magical skill—the greatest test an enchanter will ever know. The victor becomes the Imperial Enchanter and the Tsar's most respected adviser. The defeated is sentenced to death.
Raised on tiny Ovchinin Island her whole life, Vika is eager for the chance to show off her talent in the grand capital of Saint Petersburg. But can she kill another enchanter—even when his magic calls to her like nothing else ever has?
For Nikolai, an orphan, the Crown's Game is the chance of a lifetime. But his deadly opponent is a force to be reckoned with—beautiful, whip smart, imaginative—and he can't stop thinking about her.
And when Pasha, Nikolai's best friend and heir to the throne, also starts to fall for the mysterious enchantress, Nikolai must defeat the girl they both love... or be killed himself.
As long-buried secrets emerge, threatening the future of the empire, it becomes dangerously clear... the Crown's Game is not one to lose.
The fourth book in this section is Ivory and Bone by Julie Eshbaugh. This is set to release on June 7, 2016 from HarperTeen. I am so excited for this book. I love getting into new fantasy series though I have so many on my TBR list already.
Hunting, gathering, and keeping his family safe—that's the life seventeen-year-old Kol knows. Then bold, enigmatic Mya arrives from the south with her family, and Kol is captivated. He wants her to like and trust him, but any hopes of impressing her are ruined when he makes a careless—and nearly grave—mistake. However, there's something more to Mya's cool disdain…a history wrought with loss that comes to light when another clan arrives. With them is Lo, an enemy from Mya's past who Mya swears has ulterior motives.

As Kol gets to know Lo, tensions between Mya and Lo escalate until violence erupts. Faced with shattering losses, Kol is forced to question every person he's trusted. One thing is for sure: this was a war that Mya or Lo—Kol doesn't know which—had been planning all along.
HISTORICAL FICTION
The first book in this section is Traitor Angels by Anne Blankman. This is set to release on May 3, 2016 from Balzer + Bray. I don't really know much about this book but people have seemed to put it on theirs and I feel like I should too.
Six years have passed since England's King Charles II returned from exile to reclaim the throne, ushering in a new era of stability for his subjects.
Except for Elizabeth Milton. The daughter of notorious poet John Milton, Elizabeth has never known her place in this shifting world—except by her father's side. By day she helps transcribe his latest masterpiece, the epic poem Paradise Lost, and by night she learns languages and sword fighting. Although she does not dare object, she suspects that he's training her for a mission whose purpose she cannot fathom.
Until one night the reason becomes clear: the king's man arrive at her family's country home to arrest her father. Determined to save him, Elizabeth follows his one cryptic clue and journeys to Oxford, accompanied by her father's mysterious young houseguest, Antonio Vivani, a darkly handsome Italian scientist who surprises her at every turn. Funny, brilliant, and passionate, Antonio seems just as determined to protect her father as she is—but can she trust him with her heart?
When the two discover that Milton has planted an explosive secret in the half-finished Paradise Lost—a secret the king and his aristocratic supporters are desperate to conceal—Elizabeth is faced with a devastating choice: cling to the shelter of her old life or risk cracking the code, unleashing a secret that could save her father…and tear apart the very fabric of society.
The second book in this section is Love, Lies and Spies by Cindy Anstey. This is set to release on April 19, 2016 from Swoon Reads.
Juliana Telford is not your average nineteenth-century young lady. She's much more interested in researching ladybugs than marriage, fashionable dresses, or dances. So when her father sends her to London for a season, she's determined not to form any attachments. Instead, she plans to secretly publish their research.

Spencer Northam is not the average young gentleman of leisure he appears. He is actually a spy for the War Office, and is more focused on acing his first mission than meeting eligible ladies. Fortunately, Juliana feels the same, and they agree to pretend to fall for each other. Spencer can finally focus, until he is tasked with observing Juliana's traveling companions . . . and Juliana herself.
SCIENCE FICTION
The first book in this section is Night Speed by Chris Howard. This is set to release on May 3, 2016 from Katherine Tegan Books. This reminds me of the TV show The Flash so I need to get my hands on this book.
Only those young enough can survive the pulse-pounding rush of tetra, a dangerous and addictive new drug that fuels a nine-minute burst of superhuman strength and speed. Alana West has been trained to use the drug so she can pursue the young criminals who abuse its power—criminals like the breakneck who nearly killed her kid brother.

On tetra, Alana is unstoppable. The rush makes her an explosive blur as she surges through New York City, battling to bring down breaknecks before they leave more people dead or injured in their wake. But with the clock ticking down to her eighteenth birthday, Alana will soon be too old for the rush...when just one more dose will prove deadly.

Supported only by her strong and steady handler, Tucker, Alana goes undercover, infiltrating an elite gang of breaknecks to stop the supply of their drug. But when Alana gets trapped on the wrong side of the law, she learns the breaknecks are not quite what they seem—especially Ethan, the artistic boy whose bottomless brown eyes seem to see the truth inside her. With her own dependency on tetra increasing, Alana must decide where her loyalties lie before the rush ends. Forever.
CONTEMPORARY
The first book in this section is Wanderlost by Jen Malone. This is set to release on May 31, 2016 by HarperTeen. Who doesn't love a good Contemporary once in a while? I am down for this one.
Not all those who wander are lost, but Aubree Sadler most definitely is on this novel's whirlwind trip through Europe.

Aubree can't think of a better place to be than in perfectly boring Ohio, and she's ready for a relaxing summer. But when her older sister, Elizabeth, gets into real trouble, Aubree is talked into taking over Elizabeth's summer job, leading a group of senior citizens on a bus tour through Europe.

Aubree doesn't even make it to the first stop in Amsterdam before their perfect plan begins unraveling, leaving her with no phone, no carefully prepared binder full of helpful facts, and an unexpected guest: the tour company owner's son, Sam. Considering she's pretending to be Elizabeth, she absolutely shouldn't fall for him, but she can't help it, especially with the most romantic European cities as the backdrop for their love story.

But her relationship with Sam is threatening to ruin her relationship with her sister, and she feels like she's letting both of them down. Aubree knows this trip may show her who she really is—she just hopes she likes where she ends up.
My Lady Jane by Cynthea Hand. Releases: June 7, 2016
Future Shock by Elizabeth Briggs. Releases: April 1, 2016
What Happens Now by Jennifer Castle. Releases: June 7, 2016
Even if the Sky Falls by Mia Garcia. Releases: May 10, 2016
How it Feels to Fly by Kathryn Holmes. Releases: June 14, 2016
Summer of Supernovas by Darcy Woods. Releases: May 10, 2016