This is a spoiler free review! Spoilers from first two books!
Written by Jennifer L. Armentrout
Genre: Young Adult/Science Fiction/Paranormal
Publisher: Entangled Teen
Release Date: December 11, 2012
Recommended Age: 13 and up!
After everything, I'm no longer the same Katy. I'm different... And I'm not sure what that will mean in the end. When each step we take in discovering the truth puts us in the path of the secret organization responsible for torturing and testing hybrids, the more I realize there is no end to what I'm capable of. The death of someone close still lingers, help comes from the most unlikely source, and friends will become the deadliest of enemies, but we won't turn back. Even if the outcome will shatter our worlds forever.
Together we're stronger... and they know it.
This is officially my new favorite series. I love the characters so much and the plot is fantastic. And the cliffhanger that ended this book has made me all kinds of mad. And frustrated. I need the next book but at the same time I don't want the next book because it will make me closer to the end of the series and I want it to go on and on and on.
As usual I don't really like these covers. If they got cover changes I would be very happy. The covers show that Katy is someone who needs protecting at all times and can't do anything on her own which makes me very upset because she can totally kick butt. The spines do look really nice though so I'm happy about that.
This is set on earth and there isn't much world-building because of that respect. But we get to see more of the secret government agencies and that's not necessarily a good thing.
Then there are the characters.
Katy has grown. She experienced so much in the last book; death and betrayal [loads of betrayal] so that has changed her into a harder person. She is now a person who is willing to do anything to save herself and the ones she loves even if it means hurting or even killing an innocent bystander. Katy also won't take "no" for an answer and would not sit idly by while everyone else did all the dirty work. I am very proud of her and how much she has grown and changed.
Daemon has probably changed the most. He is no longer that arrogant person who is totally swoon-worthy at the same time. I mean he is still incredibly rude at times and he makes it known that he is in charge but he is also a lot nicer. You can tell he really cares about Katy and he is a lot more open. He shows more emotion, actually admits to being jealous and is a lot more friendly. We get to see him being sweet and even romantic at times but he often says something totally rude which ruins the moment.
I miss the bad-ass Daemon though. The one that could make you swoon by saying some snarky comment. The one that made you want to knock some sense into his brain but also the one whom made you gush and swoon. And the fact that he calls her kitten. Adorbs. Daemon is totally one of my book boyfriends and I love him to death.
Dee totally took her claws out in this one. I felt her pain over losing Adam and I totally supported her though I wished she would have stopped ignoring Katy. She knew what she wanted and she put her foot down about it, even though no one agreed with her. I really like her and hope to see more of her in the future.
I HATE BLAKE!! I knew he was no good and now he returned and that makes me so angry. How did they not see this coming? It was pretty damn obvious. I really wanted to like him because he seemed like he could be sweet but it was too good to be true. And that Killer Ending…
If I wasn't head over heels for Daemon, I would totally be into Dawson. He was adorable and totally lovable. And Katy is totally on her way to becoming his best friends. Those movie nights were adorable. And when he talks about Beth. Swoon.
I can't believe on most reviews, I forget to talk about the plot. The plot annoyed me just a little bit as sometimes there was nothing going on and other times there was a ton going on. But Jennifer L. Armentrout knows how to make her readers hold their breath and wait for what is going to happen. Whether it be good or bad. I was scared for what would happen as everything can't be sunshine and happiness. Not after the aftermath of the last book. I did come up with some good ways of how to torture Blake for the horrors he put us through.
The romance… Swoon. Seriously adorable and swoon-worthy at the same time. Finally my babies are together. I feel like both Daemon and Katy are better together and the sexual tension in the last two books was killing me. And Daemon was so overprotective and cute and ugh the feels.
And that ending/cliffhanger killed me. I wanted to believe it was a joke. But no. Well, you can't expect they will be happy and dancing on rainbows cause that's not how life works. Especially in this book. But that cliffhanger was horrible and I'm sure everyone just wants to beat Blake and lock him up somewhere. Preferably in Antarctica
Love the writing. It is beautiful and simple and easy to read.
This series is my favorite. I highly, highly recommend it. You can't go wrong with this series. Just pick it up and give it a try. The characters are fantastic, the romance is adorable and the plot is unique. This is a series I want everyone reading and I hope you will try it and recommend it too.
Me after that Cliffhanger: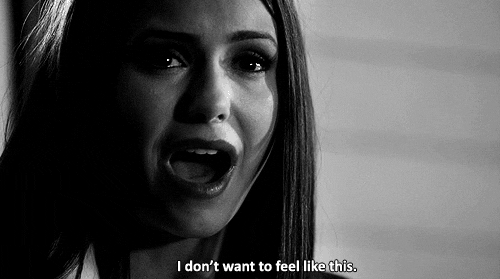 "I love you, Katy. Always have. Always will."
"If wishes were fishes, we'd all throw nets."
"You really shouldn't trust a soul in this game. Not when everyone has something to gain or lose."
"The guy just stood there. Hello. There're zombies everywhere. Try looking behind you, douche canoe."
My Rating: 5 out of 5 Crowns