Finally, I am getting another movie review up. I am such a bad person in terms of promising reviews and then never giving them. Today, I am going to do a review of
Moana
I loved this movie a lot. This is gonna be structured differently. I am structuring it more like my Zootopia review.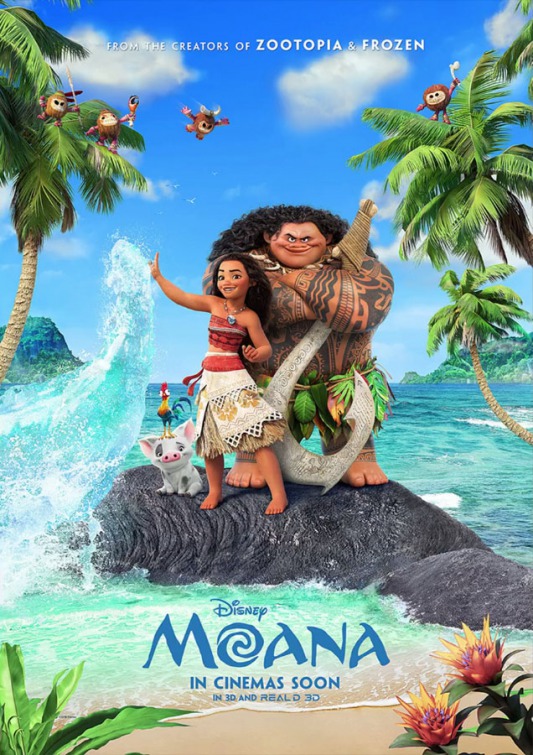 Title:
Moana
Director: John Musker and Ron Clements
Main Cast: Auli'i Cravalho and Dwayne Johnson
Rating: PG
Runtime: 113 minutes
My Rating: 5 Crowns
Release Date: November 23, 2016
If you haven't heard of Moana, you must have been living under a rock for the past month. [Sorry] But really. Moana is the new Disney movie and it really earns the hype.
PLOT
Moana is based on stories about the Polynesian seafarers, which I thought was really cool and interesting. I had never heard of them before but I knew that this movie would be new and different and it was but I loved it.
I do not want to spoil this movie so I will just give some basics. Maui is a demigod, who stole the heart of the goddess Te Fiti but then he loses the heart as well as his freedom and his magical fishook while many other gods and monsters want the heart for themselves.
The ocean manages to keep the heart safe for years until the time is right to find the chosen hero to find Maui and return the heart to the goddess. The ocean chooses Moana who is a young girl, living on an island. Oh and she's meant to be the chief of her island. When the ocean chooses Moana, it sets her off on a journey beyond the horizon, to a place that she's never been. She's basically clueless about sailing and anything beyond the island that she's lived on her entire life. She is trying to save her island and her people from the destruction that is coming. She goes off with a cranky demigod and a crazy chicken and she has to battle pirates, monsters and her own self-doubt during her quest.
ACTORS/CHARACTERS
I really enjoyed all the characters which was good and they are all way more complex than they might seem at the beginning.
Moana is the hero in this story. She is very complex, kind, feisty and brave. Moana has been drawn to the ocean her entire life but her father forbids her from going beyond the reef, as it is too unknown and dangerous. She really wants to make her father proud and be a good leader for her people but the when the ocean chooses her for the mission, she discovers that the ocean is in her blood. She has a sense of duty and love for her family which correctly guides her. Her journey is such an inspiration and her struggles are so humanlike. She seems like such a real character and I adored her voice actress, Auli'i Cravalho.
Maui is the second main character and he seems like he is really annoying and two-dimensional when you first meet him. But it turns out that he has a lot more layers and his journey is done really well. Watching his character unfold and his journey move forward is a lot of fun and pretty hilarious. His character is brought to life with such charm and happiness that even when you don't want to like Maui, you can't hate him.
Oh and I can't forget the two animal characters. The pig and the chicken were honestly so cute and funny. I loved them a lot.
FRIENDSHIP
The friendship is so amazing. Moana and Maui do not start out as friends. She is sent to get him to go put back the stone and they both don't want to work together. But then their relationship develops into a friendship and they work together so well.
ANIMATION + MUSIC
The animation is beautiful. Everything looks realistic and it is so bright and colorful and I loved it so much.
The ocean is done so realistically, the waves and the way it moves against the shore. The ocean is also a character which is really well-done.
The music was also really good. Lin-Manuel Miranda who did In the Heights and Hamilton worked with Mark Machina [Lilo and Stitch] to do the music. The songs were really catchy, the background soundtrack is gorgeous and the vocals were amazing.
I am so proud of Disney making new movies that have messages and have strong females.
I highly enjoyed this movie and I really recommend it.