[I kinda stole these graphics from Paperfury. Here's the credit! :)]
I have been wanting to tell you guys a bit about me as a writer since I do write novels for fun. I don't talk about this certain passtime of mine very much because I have yet to finish a novel and most of them are half written with plotholes and half planned out characters. But, I have decided that I should share if I ever hope to be a published author.
I was not tagged for this tag but I found it on Cait's blog:
Paperfury
. Feel free to do this tag if you wish to. You can link back to the hashtag: #TheWriter'sTag on Twitter or Instagram.
1. WHAT GENRES, STYLES AND TOPICS DO YOU WRITE ABOUT?
Fun fact: I have never finished a novel but I am trying so very hard. I am mostly a fantasy author because I write what I'm good at, but I also like to dabble in some other generes:
Science Fiction/Dystopian: I haven't actually ever finished one of these but I have planned some
Historical Fiction: I am currently working on two at the moment. I'm excited to share snippets with y'all.
Contemporary: I have an entire novel planned out but it is more a new adult than a YA contemporary sadly and I've never actually made an effort to dip my pen in that ink [Expression. I actually type my novels]
STYLES:
I've tried both first person and third person and I'm still not sure which I like better.
TOPICS:
Fairytale retellings: these are my absolute favorites because they are my favorites to read.
Mentioning food in basically every novel, even if it isn't necessary.
Positive sibling relationships
PIRATES! [currently writing one that will be amazing]
Strong female characters who can be stronger than the male characters in the same book.
MAGIC!
Mermaids [dabbling in it]
Smol, precious characters. [Well...it depends on the point of view]
2. HOW LONG HAVE YOU BEEN WRITING?
A long time! But really, I am not sure. I do remember having my sister dictate parts of stories to me and then we wrote them down, stapled them together and handed them out to our family members [often demanding payment. We made our own newspapers as well. Good times!]. So, I have probably been doing it since the age of eight. Crazy right?
I write because it makes me happy and I can do whatever I want. It's almost like I'm the Queen of my own kingdom, dictating all my subjects and getting to decide what happens. It's fun!
4. WHEN IS THE BEST TIME TO WRITE?
Whenever I am on break or on a weekend as there is physically no time during a normal school day. Homework takes enough time and apparently is more important then writing my novels [Who made up that theory?]
I also need time to take breaks to eat food, surf the internet, lie down and do absolutely nothing and start new TV shows.
So, breaks and the weekends are probably best.
5. PARTS OF WRITING VS PARTS YOU HATE?
LOVE:
When you first have an idea and you can't wait to write it.
Actually finishing something [though that hasn't happened yet]
Getting feedback [both positive and negative]
Actually getting your own freedom to write anything you want.
Making up my own characters that can be smol innocent beans or not.
Naming everything [from the worlds, to countries, to characters]
HATE:
How long it takes to write something.
Having self doubt.
Actually editing. [Why is this even a thing?]
WRITER'S BLOCK [This is huge and I fall victim to it all the time.]
Struggling to figure out how to fix something [aka plot holes]
Having people ask you about it all the time.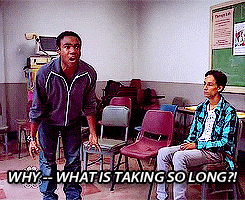 6. HOW DO YOU OVERCOME WRITER'S BLOCK?
Overcoming writer's block is very difficult. Sometimes I have to leave my story for hours or days in order to let it sit and for me to actually get ideas. But, here are some tips that actually help:
If you have not outlined, then try to outline the next chapter or part of your story and it helps.
Make a fantastic Pinterest board or if you have one, add to it.
Go read or watch something related to your book and gain wisdom and ideas from it but don't plagiarize.
7. ARE YOU WORKING ON SOMETHING AT THE MOMENT?
Yes, I am actually. I am currently working on two fantabulous books. One of them is a pirate/siren story which is called
Black Swan.
This includes a female pirate captain, a rivalry with another captain, quests, mermaids, a lot of swashbuckling, high seas adventure and a romance.
The second one that I am writing for Campnanowrimo is called
Camelot Anew
. This is basically about a modern time girl who gets sent back with her brother to King Arthur's time and becomes a pawn in Morgana's game. It has swordfighting, adventure, a young King Arthur, a young Merlin, blood, magic, a little bit of a possible LGBT romance and more.
[If you click on the titles of both my stories, you can see my Pinterest boards PLUS these are my ideas, no stealing please!]
8. WRITING GOALS THIS YEAR?
I'd like to finish both Black Swan and Camelot Anew this year [#dreams]
I'd like to edit Camelot Anew.
I'd like to outline an idea of mine which basically includes space, a LGBT romance [cause I am all about diversity], and a whole lot of chaos.
Don't be nervous to try something new.
So, I opened up a bit about my writing life and I would love to hear if any of you are writers. Feel free to chat! Love you all!